It's that time of the week again, you've come to the one-stop shop for all new digital news and insights. This week we've got exciting Intelligency news and updates on a plethora of Google changes and features.
Celebrating five years of Intelligency
Not only is this the fifth Digital Roundup article I have written, but Intelligency also celebrated their fifth anniversary on Monday with champagne and cupcakes all around. I'd like to take this opportunity to thank all of our clients, as we wouldn't be where we are without them. Sean Walsh (Founder of Intelligency) had this to say on our Instagram: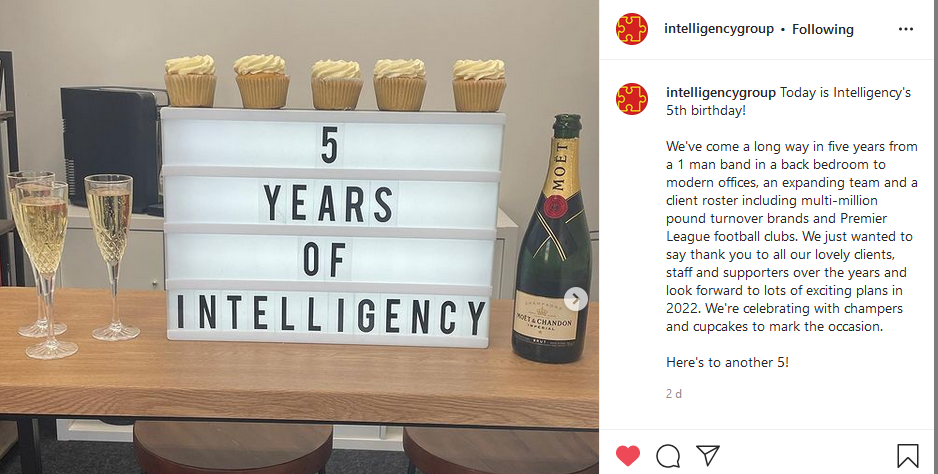 Google Search Console performance report update
Google have updated their performance reports within popular tool Google Search Console, the update doesn't change much however it's worth noting that it may result in an increased number of clicks and impressions appearing in the performance report; it specifically appears when you filter your report by "News" and "Good page experience" If you look back to the 13th of September on the report, you can see an annotation which has been added by Google which reads:
"Due to a logging change, you may see an increase in the number of clicks and impressions for Good Page Experience search appearance for the "News" search type filter. This change does not reflect a change in user behaviour or search results, only a change in Search Console logging."
Here you can see a sample of data spiking within Search Console:
John Mueller speaks out about content and algorithm updates
Google's John Mueller has recently spoken about the best ways to recover from a Google algorithm update if your rankings drop as a result. He confirmed that whilst technical fixes to the website may seem like a good solution, the relevance of a website won't improve just by fixes alone; Mueller confirmed the best way to go about improving your rankings again is improving your website's content rather than focussing on purely technical fixes. Mueller went on to explain core updates and content focus:
"With the core updates we don't focus so much on just individual issues, but rather the relevance of the website overall.

And that can include things like the usability, and the ads on a page, but it's essentially the website overall.

And usually that also means some kind of the focus of the content, the way you're presenting things, the way you're making it clear to users what's behind the content. Like what the sources are, all of these things. All of that kind of plays in."
He added that improving UX and changing everything around might offer some slight improvements, but this isn't good enough by itself, you need to majorly improve content if rankings significantly drop. See the below.
"So just going in and changing everything around the content— I think you can probably get some improvements there.

But essentially if you really want Google to see your website as something significantly better, you probably also need to work on the content side.

… think about where might there be low quality content, where might users be confused when they go to my website— and is that confusion something we can address with technical issues? with UX changes? Or do we actually have to change some of the content that we present?"
The full video can be found here:
Spotted Search updates and tests from Google
There's a theme emerging here as you may have seen, Google have been unleashing a rapid-fire amount of tests and updates for their platforms, and Search has been subjected to a few as well.
The first update worth talking is 3D image preview. They are rolling out small tests across Search which will start showing 3D image previews rather than a static 2D image (If you do not have a 3D image such as one that can rotate, then your product listings won't be affected). Twitter user Saad AK managed to see this in action and posted this .gif onto Twitter: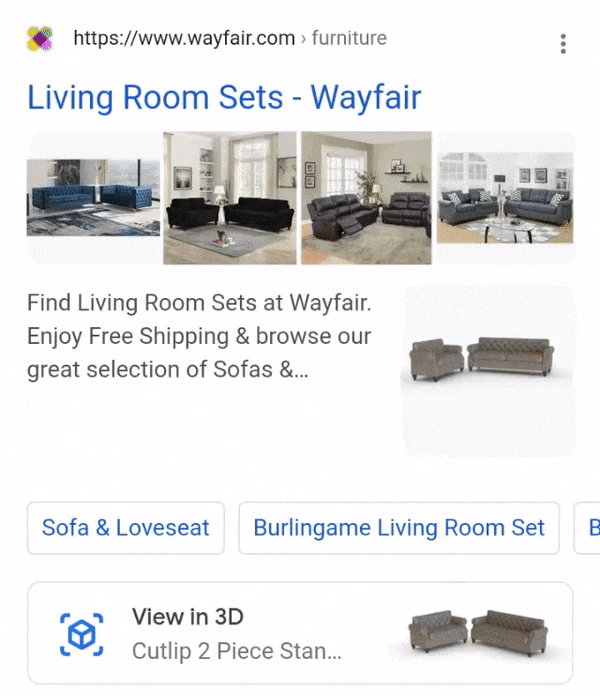 This isn't showing up for everyone yet, which means this feature is just being tested for now.
Another update worth talking about is an update for Google Search on Mobile, continuous scrolling is being implemented into the mobile app, so users don't have to switch to the next page of results in order to carry on looking for a result they want. The "See More" button hasn't been removed, but it will take a lot longer to get to said button. This is beneficial for publishers, as page two doesn't get as much traffic as page one, but this may change for mobile traffic thanks to this update, we'll see in the next months if this rings true or not.
Thank you as always for reading the latest edition of Intelligency's Digital Roundups.