There can be no success with your digital marketing activity without a robust and tailored content strategy. Our team helps clients devise and create engaging, bespoke content across multiple mediums. Whether you're looking for copy resource for a new website or need tried and tested paid social media creative that converts, we can help.
As well as our production capacity, we help most of our clients map out a content strategy designed to engage and excite their customers. Our content strategies can be designed alongside keyword research for SEO or can be tailored to target specific audiences alongside our marketing customer profiles.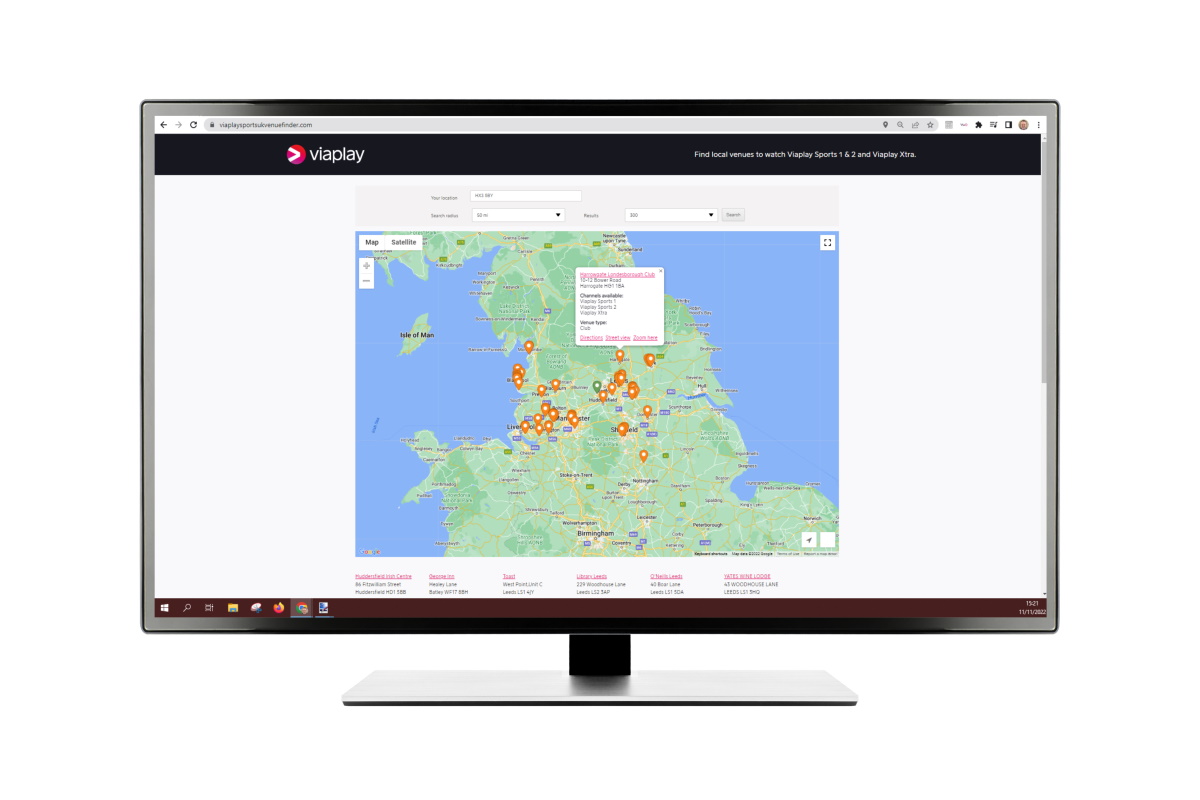 Interactive venue map for Viaplay Group
In 2021, Swedish streaming giants – Viaplay – commissioned us to create ViaplaySportsUKVenueFinder.com for their UK locations that subscribed to Viaplay Sports TV channels.
This piece of content was devised in response to football and rugby fans constantly asking where they could watch sports games broadcast on Viaplay Sports UK (formerly Premier Sports). We devised an interactive Google Map on a standalone site that users could engage with to find their nearest pub, club or venue using a post code search feature.
Content that is planned and tailored to your business objectives.
Don't create content for content's sake. Plan, create and deploy the right content for your target audience. Content forms the backbone of all digital marketing whether it's SEO, Social Media, E-mail marketing or Digital PR.
Our content offering
Intelligency provides numerous content services to our clients, these include…
CONTENT PLANNING
We can help reduce your digital marketing costs by generating return-on-investment reports for budget based activity such as media spend, agency retainers, software licencing and more.
CONTENT PRODUCTION
Our state-of-the-art audience profiling dashboards prove to be invaluable assets for digital marketing, sales and customer support teams. By combining your customer CRM data with web analytics insights, we can produce accurate and digestible audience customer profiles.
CONTENT OPTIMISATION FOR SEARCH ENGINES
We use machine learning analysis software combined with business & third-party data to identify valuable business trends. Our trend insights help contribute to decisions for everything from product selection to demographic targeting.
CONTENT IDEATION
Combine digital and operational analytics into a singular real-time data dashboard where you can measure and monitor all of your digital marketing channels. Review and learn from past campaign performances. Identify weaknesses in your strategy & benchmark against your competitors.